studio
Established in 2004, studio junction Inc. was founded by Peter Tan and Christine Ho Ping Kong. Utilizing the experience and knowledge that comes from combined degrees in Architecture and Fine Arts, we formed a small design studio and custom woodworking shop. We have been involved in the design and construction of spaces and objects at various scales.

Recently we have been widely recognized for our Courtyard House. This house reflects our interest in urbanism, the poetics of light and space, and the detailing and craft of woodworking.
"It's very imaginative and innovative and yet extremely modest in terms of its means, and I think it creates a really interesting prototype on how you would intensify in the city"
Shirley Blumberg
juror for the OAA Design Excellence Awards 2008
Perspectives, Summer 2008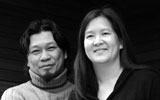 Christine Ho Ping Kong
b.arch b.f.a

Christine has over ten years experience in single family residences - new construction, renovations and additions. In addition to small residential projects, her previous experience as an intern architect include a variety of projects: social housing, urban planning, condominiums, and mixed-use developments. From her background in Fine Arts, Christine brings a sensitivity to site conditions, natural light, and materials. With her creative vision and refi ned design sense, she intuitively recognizes the sensorial qualities that make an enduring space.

Christine's professional responsibilities extend through all phases - from conceptualization, to design development, contract documents and contract administration. Christine is familiar with municipal planning and development approval mechanisms, including minor variances for committee of adjustment, and amendments to the official plan or by-laws. As the facilitator of communications, Christine has been responsible for keeping a close link to clients, producing presentation drawings that clearly and effectively communicate the design intentions, and facilitate meetings with city and urban planners, Community Planning and the community-at-large.



Joe (Che Yu) Lin
b.arch.sci

Joe graduated from Ryerson University with a Bachelor of Architectural Science. The Building Science curriculum emphasized sustainable technology and design. Areas of focus included: construction methods & means, building defect detection, building rehabilitation, energy modeling, building systems analysis, building envelope design, passive green strategies, and resource conservation.

During his time with Studio Junction, Joe has been actively engaged in the design process for several residential projects: from conceptualization to production drawings. For the Christian Island cottage and Summerwood prefabricated structures, Joe has been instrumental in the resolving technical details and outlining possible sustainable strategies. This included the development of tectonic details, millwork, and the development of a retrofitted green roof system.